Family-run business the Fred. Olsen Cruise lines recently completed a 13-day multi-million-pound refurbishment of its cruise liner the Bolette at A&P Falmouth Shipyard – and the biggest passenger ship to undergo a refit there in 63 years.
Works on the huge cruise liner included maintenance to the ship's Azipods and bow thrusters as well a new application of under water paint by the Cornish A&P workforce.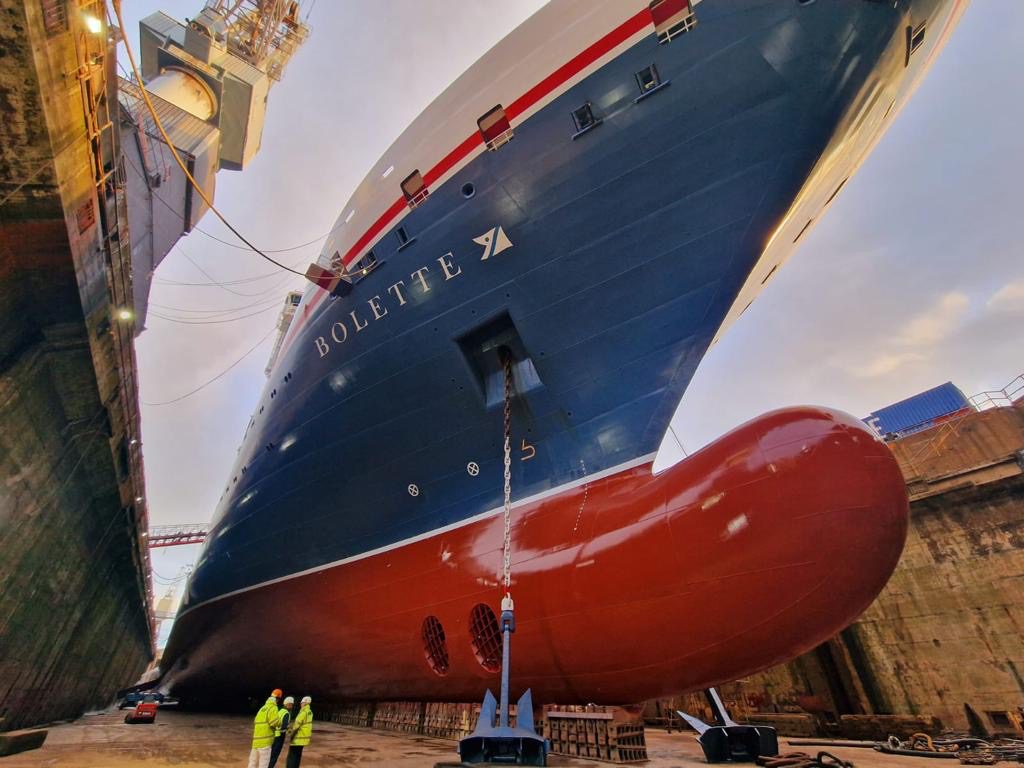 The Bolette can carry up to 1,300 guests, and set sail from Falmouth over a week ago, and is now based in Newcastle for the Spring and Summer season.
The UK based Fred. Olsen Cruise Lines is a Norwegian-owned company with four cruise ships, and it is the second time in recent years the company has supported the Falmouth Shipyard, with fellow ship the Balmoral competing a programme of works last May.
Peter Deer, Managing Director of Fred.Olsen Cruise Lines, said: "I would like to thank the team at A&P Falmouth for taking good care of our flagship the Bolette during her time in dry dock."
"Our ships, and our team, have a longstanding relationship with the community of Falmouth."
"We know our guests love to explore Falmouth, and looking forward to offering further visits this year with the Balmoral visiting the port in the Spring."
David McGinley, Chief Executive, added: "It is fantastic to welcome Fred.Olsen's Bolette into A&P Falmouth."
"Projects such as these help us sustain our workforce, apprenticeship programme, and supply chain which drives prosperity and adds real value to the South West economy."
"We are delighted to continue our partnership with Fred.Olsen Cruise Lines, welcoming their cruise ships for dry docking across our group," he said.