Westward Shipping News team and Dorcas Media are proud to be supporting World War Two veterans attending the annual Normandy Memorial Service in France this week.
It is the 79th anniversary of the D-Day landings in France with the Regiment Support Service helping to pay for the travel, accommodation, and support costs for nine veterans, a war widow, as well as carers and supporting family members looking to attend.
The average age of the veterans is now 89, and in their declining years they gain so much for revisiting the site of the landings and battles, and sharing their stories and experiences with their comrades, the local population, and wider world, said Patron – General the Lord Dannatt, GCB, CBE, MC, DL.
"The tailor-made trip of 5 days will encompass ceremonies at the new, stunning British Normandy Memorial at Ver Sur Mer, Colvile Montgomery, Bayeux Cemetery, Caen and Arromanches," he said.
The Spirit of Normandy Trust was founded in 1994 by the late General Peter Martin CBE to commemorate the 50th Anniversary of the Normandy campaign.
It has two main aims, the first is to work in conjunction with SSAFA to provide welfare for veterans and their dependents.
The second, is to inform students of all ages and the general public about the events leading up to the Normandy Landings and the historical significance of WW2.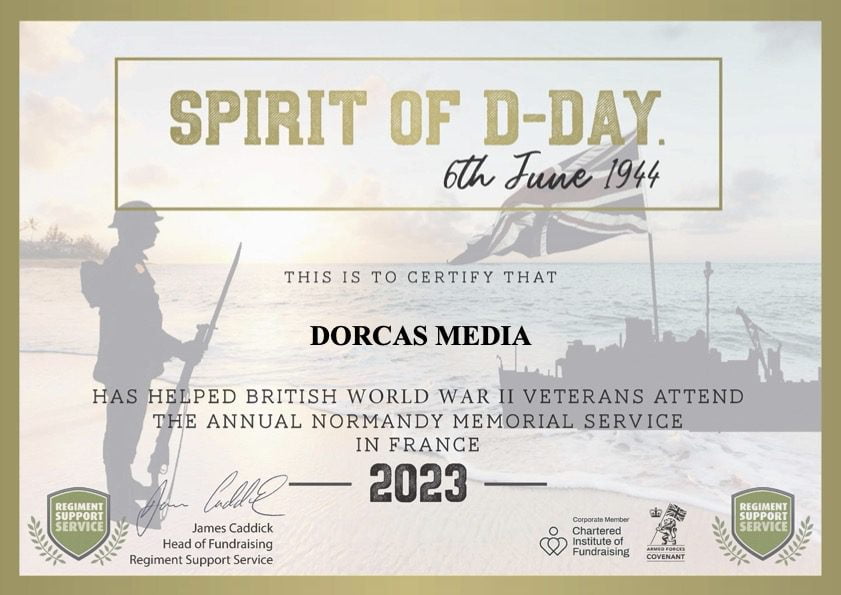 Kevin Kelway, BCAc, Director at Dorcas Media, added: "We support the Regiment Support Service every year, but especially in helping to support The Spirit of Normandy Trust."
"Dorcas Media was presented the prestigious Gold Award last year by the Defence Employer Recognition Scheme (ERS) for our unwavering dedication in supporting the UK's Armed Forces, veterans and their families, and a proud Armed Forces Covenant signee," he said.