PLYMOUTH BUSINESSMAN TIM GRIMES RAISES OVER £2,500 FOR THE (PoTS) CHARITY
TIM COMPLETES SOLO CHANNEL SWIM
32-year-old Plymouth Man Tim Grimes successfully swam the English Channel on the 6th of September to raise funds for the Postural Tachycardia Syndrome (PoTS) charity.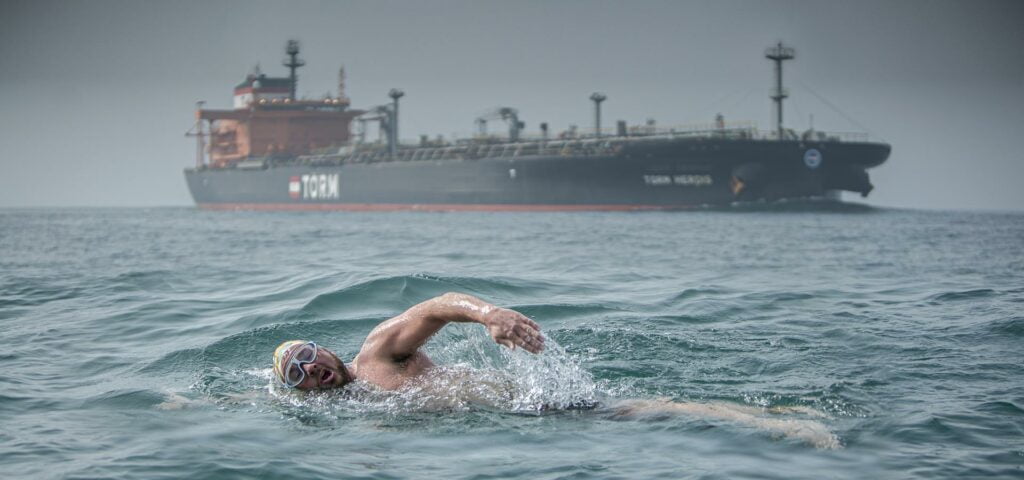 Tim Grimes, a local Plymouth man is a keen swimmer, and on the 6th September 2023, completed the ultimate personal challenge of solo swimming the English Channel.
(Tim swam in 13 hours 27 minutes, covering a whopping 31 miles).
Tim said: "My swim was one of the biggest endeavours I've ever undertaken."
"Facing the cap at the other side of the channel was hugely challenging as the tides caused a stand-still situation where I was moving sideways and being pulled away from the French coastline."
Tim stopped to feed at first on the two-hour mark, but quickly went to hourly feeds – to ensure he had enough energy to complete the swim.
Despite the challenges Tim completed the swim in a great time.
The Westward Shipping News Live feed ran well for most of the trip even with challenges of network connection.
Huge numbers watched the experience on our website and YOUTUBE to see Tim swim live.
Tim added: "The swim was challenging, but I'm really pleased to have ticked it off my bucket list, and was a great experience."
"The support I have received from around the UK and abroad have been overwhelming."
"Thank you to everyone who has donated, and I really appreciate your support"
Tim Grimes can be seen most days on our Westward Shipping News webcam swimming across the Sound and has already raised over £2500 on his JUST GIVING PAGE.
"I have been raising money for Postural Orthostatic Tachycardia Syndrome (PoTS). It wasn't an immediately obvious decision, but I quickly had a moment of realisation that supporting this charity would not only help support the millions of people who suffer from PoTS and are newly diagnosed with it, but more so it's a homage to one of my nearest and dearest who suffers severely with this condition."
"She's struggled with severe PoTS for some time and has truly been through grim after grim experience with it, yet despite that she's always been there to help me during various rough times over the years…So that was for you 'OB'! Swimming for 13 and a half hours solid was a walk in the park compared to the struggles you have faced,"
"Every donation will make a real difference to those in need, and I would be incredibly grateful for your support. I have personally funded everything for the actual swim so everything really is going to PoTs! Thank you for taking the time to read this and thank you for supporting this amazing cause."
Symptoms of Postural Tachycardia Syndrome (PoTS) 
"If you are unsure what PoTS is, here is a little crtl+c to give you an insight…. Essentially, PoTs is when your heart rate increases very quickly after getting up from sitting or lying down."
You may also get other symptoms, such as:
Some people get away with mild symptoms, while for others (as I have seen first-hand) it can have a massive impact on their everyday lives.
Recording from the last 4 hours 20 minutes
Need help or have an enquiry? Let us know by using our contact form . We will get back to you as soon as possible.